FREE SHIPPING IN COSTA RICA FOR PURCHASES OVER ₡20,000 **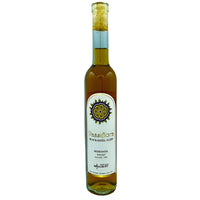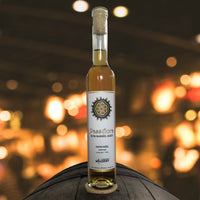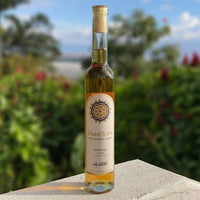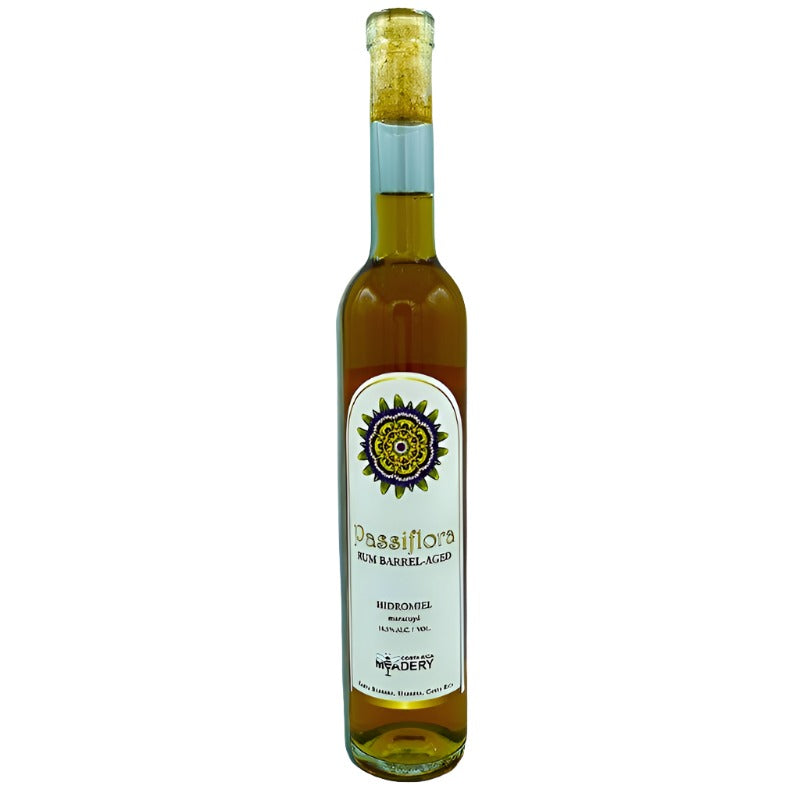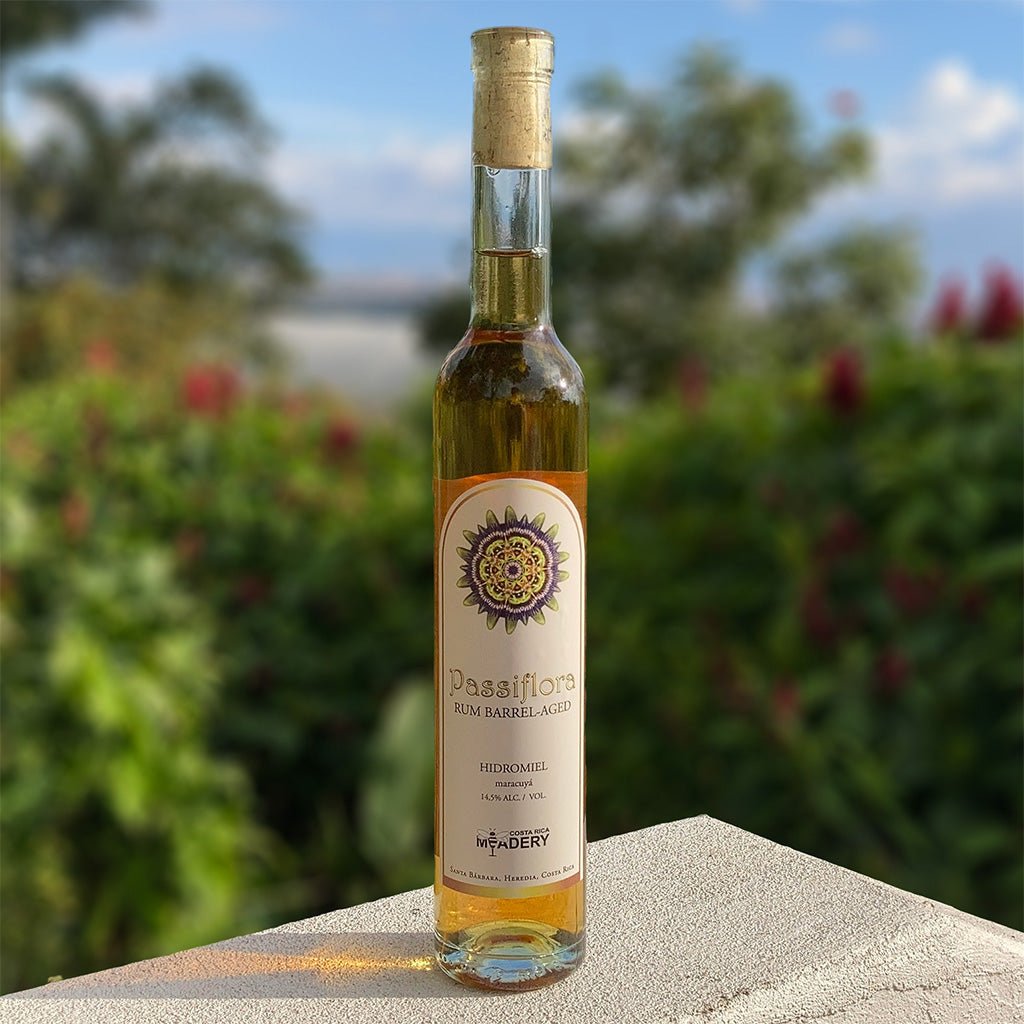 PASSIFLORA RUM BARREL-AGED - 375 mL bottle
Regular Price

₡ 17,647.06

Sale Price

₡ 17,647.06

Regular Price

Unit Price

per
Complex. fruity. Sweet.
PASSIFLORA RUM BARREL-AGED is a very special edition of Passiflora!
This sweet honey wine with passion fruit has been aged for more than 3 years. In 2019 we stored a batch of Passiflora in a recently emptied oak barrel that was being used by Ron Centenario.

In the aroma and flavor, the intense notes of wood, dark rum and honey are intertwined with the fruity and acid notes of passion fruit.
14.5% alc. / vol.
Without gluten
Ingredients: Water, Honey, Passion Fruit and Yeast.
Sabor Increible
Se nota la calidad con la que fue fabricado, el sabor y como se nota que es añejado en barril de Ron, hace que tenga un sabor y aroma asombroso, la combinacion de sabores, todo perfecto para obsequiar para una persona importante y tambien para realizar un brindis.
miel y maracuya más amor
Que mas exótico que la miel y la maracuya? Una delicia la verdad. Y además hecha con amor.
Saludos
Buenas tardes aun no he abierto la botella
A truly sublime sensory experience!
I have been enjoying Passiflora from Costa Rica Meadery for years. However, this limited edition, in which Alejandra has aged the passion fruit mead in a rum barrel acquired from Ron Centenario, is on another level! A great sipping experience in which nuanced and complex flavors jump around in my mouth. While I definitely detect the boozy flavors of rum, overall this barrel-aged addition has a more mellow and well-rounded flavor.
PREGUNTAS FREQUENTAS
La mejor opción para comprar nuestros productos es visitar nuestra tienda ubicada frente a nuestra bodega en Santa Bárbara de Heredia.

Horario de Tienda
Martes - Viernes: 10 a.m. - 5 p.m.
Sábado: 11 a.m. - 4 p.m.
Domingo: 11 a.m. - 4 p.m.

Dirección a Tienda:
800 mts norte de la "Y" griega de Rosales, Carretera a Zetillal, Santa Barbara de Heredia
WAZE: https://tinyurl.com/yb8h26ba
WhatsApp: 2269-8166
Teléfono de Tienda: 2269-8166

Además, puede comprar nuestros productos en nuestra tienda virtual. En la página Puntos de Venta están los negocios de amigos que venden nuestros productos.
Sí, Costa Rica Meadery enviará pedidos a ubicaciones en Costa Rica. Si su ubicación está dentro de GAM, usamos Correos CR o un servicio de mensajería. Si su ubicación está fuera de GAM, utilizamos Encomiendas o Correos, dependiendo de las circunstancias.

En el caso de que los servicios de entrega que utilizamos no puedan entregar en su ubicación, cancelaremos su pedido y le devolveremos su pago.
SHIPPING IS FREE for purchases over ₡20,000 and up to 12 kgs to locations in Costa Rica.

For purchases under ₡20,000, there is a shipping fee of ₡5,000.

For orders weighing more than 12 kgs, contact ventas@costaricameadery.com to coordinate delivery.
Los envíos se realizan de martes a viernes.

Órdenes antes de las 12:00 pm será enviado al día siguiente. Los pedidos posteriores a las 12:00 pm se enviarán en dos días o antes.

La entrega de su pedido estará programada para la mañana o la tarde. Le enviaremos un mensaje por WhatsApp o correo electrónico cuando se haya programado su entrega.
Los envíos dentro del GAM serán entregados dentro de los 1-2 días hábiles siguientes a la confirmación del pedido.

Los envíos fuera del GAM serán enviados por encomienda o Correos y entregados dentro de los 2-3 días hábiles siguientes a la confirmación del pedido.
Para pedidos en línea, aceptamos el pago mediante Tarjeta de Crédito, SINPE MÓVIL o Transferencia Bancaria.

SINPE MÓVIL:
8718-4094

Transferencia Bancaria:
Cuentas Bancarias - Costa Rica Meadery
Cédula: 3101662627
Moneda: Costa Rica Colón
Banco: BAC Credomatic
Nombre de la Cuenta: Costa Rica Meadery S.A.
IBAN CR10010200009272564798

Para compras en nuestra tienda física, aceptamos SINPE MOVIL, Efectivo y Tarjeta de Crédito.